MBJ Airport Transfer to Sunset Resorts Jamaica
MBT Transportation & Tours offers safe, reliable and customer friendly airport transfers and tours to and from the Sunset Beach Resort & Spa Montego Bay,Jamaica Grande Resort Ocho Rios and Sunset At The Palms Resort Negril.See below for price list and booking on MBJ Montego Bay airport transfers.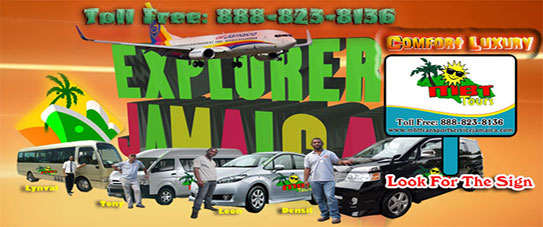 Sunset Beach Resort Montego Bay Jamaica
The Sunset Beach Resort & Spa is Just a short, 15-minute ride from the Donald Sangster International Airport, Sunset Beach Resort & Spa stands proud on its on private peninsula. Located on Jamaica's northwest coast, Montego Bay positions itself as the "complete resort," where white-sand beaches are edged by flowering trees, and palm-dotted hills make a lush backdrop to long stretches of rolling meadowland.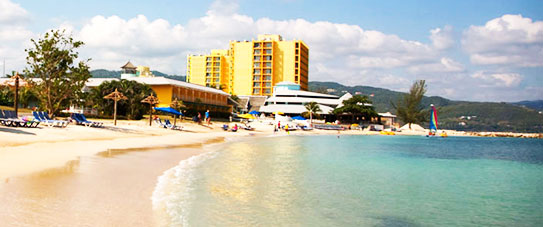 Sunset Jamaica Grande Resort Ocho Rios
The all-inclusive 730-room Sunset Jamaica Grande Resorts & Spa continues the celebration of its mulit-million dollar rebuild and refurbishment. A beautiful white-sand beach – the longest in Ocho Rios – fringes the resort. Five lavish pools wander through this beachside complex, featuring waterfalls, plunge pools, swim-up bars and a swaying rope bridge. Known for its wide range of "fun in the sun" daytime activities, guests can also enjoy an abundance of fun after the sun goes down.
For hotel accomodations CONTACT: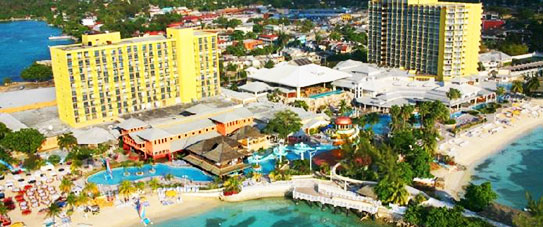 Sunset At The Palms Resort Negril Jamaica
Sunset at the Palms features a trendy, new design, sumtuously appointed guestrooms, new amenities and lush landscaping. Just 85 "treehouse-style" guestrooms stand in a ten-acre tropical garden, a design praised by Architectural Digest. And it's all just steps from the resorts five acres of beachfront, two miles of white, sandy beach, hailed as the most blissful beach in jamaica. From the martini bar to the beach bar, Sunset at the Palms delivers the best of Jamaica's beauty and endless charm. See for yourself why TripAdvisor.com has named Sunset at the Palms one of the top ten most romantic resorts in the aribbean!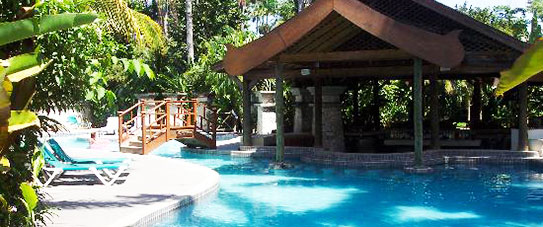 Price List Below For MBJ Airport Transportion
| Departure Hotel / Resort | 1-4 Persons One Way | 1-4 Persons Roundtrip | Additional Person |
| --- | --- | --- | --- |
| Sunset Negril | US$80.00 | US$160.00 | US$25.00 |
| Sunset Ocho Rios | US$100.00 | US$200.00 | US$25.00 |
| Sunset Montego Bay | US$35.00 | US$70.00 | US$10.00 |

Things to do In Your area Jamaica
Ocho Rios Tours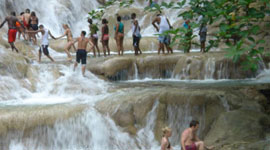 Unquestionably the most popular tourist attraction in Ocho Rios Jamaica. The setting is truly breathtaking, and the incredible cascading falls challenge, refresh and delight visitors of all ages.You can experience the best in Tubing, Zipline, River Rafting & shopping in the centre town. Your Tours give you the best of Ocho Rios in the comfort of an air conditioned van/Car.
Cruise Ship Passengers Book Here

Book Now
Port Antonio Tours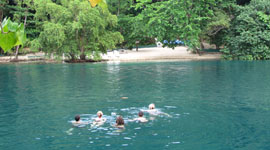 Port Antonio, located on the Northeast coast of Jamaica,
is one of the most beautiful destinations in this island.
Although Port Antonio does not draw as many tourists as
other more popular destinations in Jamaica. Port Antonio
is an offbeat spot. Rich and shoestring American travelers alike prefer Port Antonio, but many Europeans come here. Experience the natural pristine beauty of Jamaica's
Cruise Ship Passengers Book Here

Book Now