Negril Highlight Tours/ Excursions in Negril
Negril is just about one hour and fifteen minutes drive from Sir Donald Sangster International Airport, in Montego Bay. Westmoreland is the westernmost parish in Jamaica, located on the south side of the island. Downtown Negril, the West End cliff resorts to the south of downtown, and the southern portion of the so-called "seven mile (11 km) beach" are in Westmoreland. You'll soon find yourself falling in love with Negril's insouciance and its scintillating 11km-long beach sliding gently into calm waters reflecting a palette of light blues and greens. Coral reefs lie just offshore, and you'll want your camera close by to record the consistently peach-colored sunsets that get more applause than the live reggae concerts. Visit some of Negril's most famous spots such as Rick's Café watch the spectacular sunset and the cliff divers, the Lighthouse, spend sometime at the Cool Runnings Park, Enjoy a catamaran Cruise to the Rick's Cafe, Fly like a bird with the Parasailing and Glass Bottom Boat Ride. Spend sometime shopping at the Time Square, the Sunshine Village and the Negril Craft market for those special items to take home.
Cruise Ship Passengers Book Here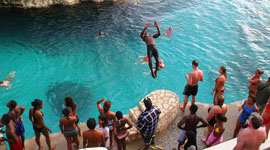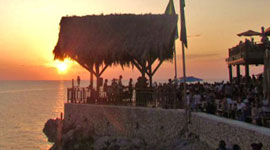 Rick's Cafe West End Negril Jamaica

Rick's Cafe was the first public bar and restaurant of its type on the West End Cliffs, offering an alternative to Negril's majestic seven mile beach. From the beginning, Rick's Cafe boasted an unrivaled view of the sunset from its naturally formed cliffs. Over the years, visitors and locals alike have designated Rick's Cafe as Negril's premier gathering spot and our sunsets have become a Jamaican tradition.Rick's Cafe is fortunate to have one of the most incredible coves along the West End Cliffs.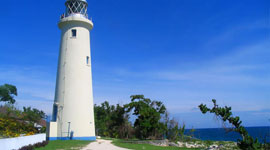 Light House West End Negril
The lighthouse is located on the westernmost point of the island at 18°15' North, 78°23' West. It's about 3 miles south of the center of Negril proper, just a short drive down Westend Road. The 66' tall tower was built in 1894. It was powered by kerosene until 1956 when they switched over to acetylene. In 1985, they switched the power source over to solar energy.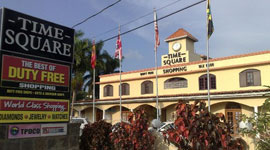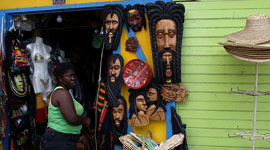 Negril Craft & Duty Free Shopping

There is only one place that offers duty-free shopping and that is the Time Square Plaza. You will find your usual jewelry, cigars, and liquors as well as other Jamaican souvenirs. If you need coffee and liquors, go to the Hi Lo supermarket located in the Sunshine village Plaza in the town center near the roundabout. It is much cheaper there.
Negril Crafts Market: Located on Norman Manley Boulevard, the Negril Crafts Market is another 'must see' location for crafts. It is uniquely situated along the Negril River and has over 200 shops/stalls in the market. Most shops are very similar in what they have to offer and you will find handcrafted items, accessories, carvings, handbags, locally designed clothing, and souvenirs.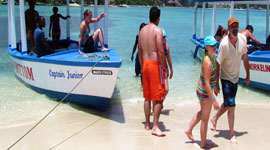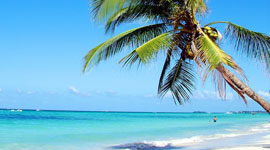 Negril Seven Miles Beach

Thanks to Negril Seven Mile Beach Which offer the best in Watersport Activites like Snorkeling Near the small Barbecue island Negril. You will be riding in a Glass Bottom Boat where you can see the reef and fishes while you go out in the deep. When you finish Snorkeling you will be taken to the Barbecue Island, where you can buy fresh Lobster right out of the water and the guys there will grill it for you with Garlic and better. when you are finish the Boat driver will take you back to the beach.
| Departure Hotel / Resort | 1-4 Persons Day Tour | 5 or More Per-Person Day Tour |
| --- | --- | --- |
| Negril | US$130.00 | US$25.00 |
| Ocho Rios | US$290.00 | US$60.00 |
| Montego Bay | US$190.00 | US$40.00 |
| Runaway Bay | US$280.00 | US$60.00 |
| Grand Palladium Lucea | US$120.00 | US$25.00 |
| Falmouth/Trelawny | US$200.00 | US$40.00 |

Other Things to do In Negril
There are other places and attractions in Negril that you can choose from than whats listed above such as: Blue Hole Mineral Spring,, Horse Back Riding, Parasailing, Glass Bottom Boat Ride, Catamaran Sunset Cruise and more.
Catamaran Sunset Cruise

Horse Back Riding

Blue Hole Mineral Spring 20 minutes from Negril

Parasailing

Glass Bottom Boat Ride