Blue Hole Spring/ Roaring River Caves
The Roaring River runs underground, before appearing near to Petersfield, close to the Roaring River Cave, a series of limestone caverns with a small mineral spring inside. The Roaring River Citizens Association, a local community group, looks after the caves and provides guided tours for visitors. There is also a fresh water sinkhole where visitors can swim and a landscaped private garden where visitors are welcome for a contribution.
Cruise Ship Passengers Book Here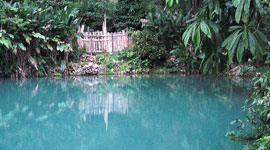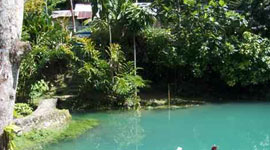 Take a Walk Through the Blue Hole Garden
A Beautiful Blue Hole surrounded by Amazing lush Gardens and different fruits and flowers . And around the back there is a small falls with Several Jacuzzis..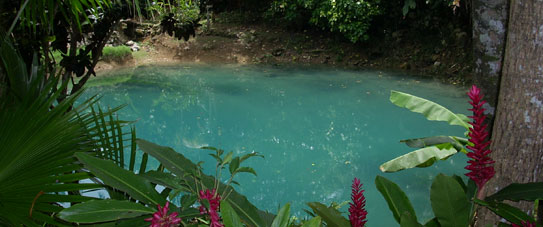 Enjoying Mayfield Falls /Roaring River & Caves
There are two sources of the Roaring River: Once source of water gushes from and old aqueduct while the other is a Blue Hole where the upwelling of water flows down to meet the other source in a confluence at a 300-year-old Cottonwood tree. Part of the subterranean flow of this river passes through Karst limestone caverns snaking through a rock formation across the river from that tree. A footpath ascends up this rock outcropping to a locked iron gate at the top of the path.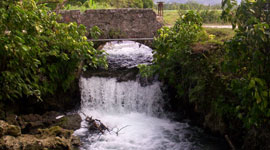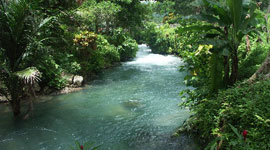 Inside the Caves of Roaring river
Inside, a path with handrails leads down to chambers full of stalagmites and stalactites.The cathedral-like caverns are quite large with a small amount of electrical light place conveniently out of sight providing a wonderful ambiance.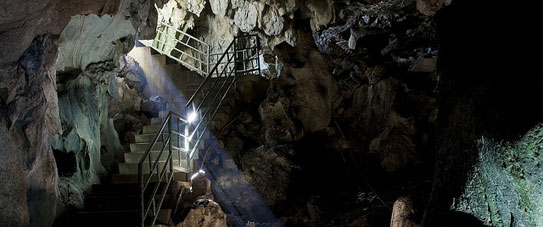 Price List Below In Includes Transportion Only
| Departure Hotel / Resort | 1-4 Persons Day Tour | 5 or More Per-Person Day Tour |
| --- | --- | --- |
| Negril | US$150.00 | US$35.00 |
| Ocho Rios | US$290.00 | US$60.00 |
| Montego Bay | US$180.00 | US$40.00 |
| Runaway Bay | US$250.00 | US$60.00 |
| Grand Palladium Lucea | US$160.00 | US$35.00 |
| Falmouth/Trelawny | US$230.00 | US$40.00 |

Other Things to do In that area Jamaica