South Coast Combine Tours
If you are yearning for something more than a typical vacation and if you are looking for an adventurer's paradise, then the South Coast of Jamaica is for you. Miles of deserted beaches and exciting country roads await you in this little known area of Jamaica.The Jamaica's South Coast offers visitors things to see and do that bring our nature and our history and our culture life. Whether it is a journey down Jamaica's longest navigable river, the Black River, a trip to the Appleton Rum estate that dates back to 1749, or a swim in the refreshing waters of YS falls or Escape on a boat ride to FLoyd's Pelican Bar for some Sea food & drinks. We can customer. (You can combine any three tours for the day)
Cruise Ship Passengers Book Here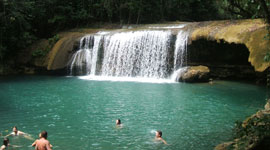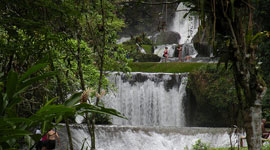 Y.S. Water Falls Excursions Jamaica
The beautiful YS Falls opened in 1990. It is a nature-based attraction offering the opportunity to experience the beauty of the waterfalls surrounded by flora and fauna, many indigenous to the area There are seven waterfalls, several which cascade into natural pools. Some areas are fairly rocky and do not allow swimming.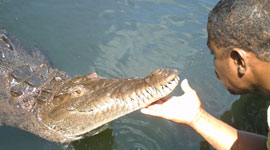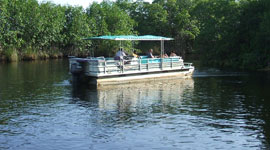 Black River Safari Boat Tour Jamaica
Black River is the capital of St. Elizabeth Parish, in southwestern Jamaica. It sits at the mouth of the river of the same name. Once a thriving sugar port, it is today a centre of environmental tourism and a gateway to the Treasure Beach resort area; Treasure Beach and Crane Beach are to the south-east with Luana Beach to the west. In the Town of Black River you have the Black River Safari Tour.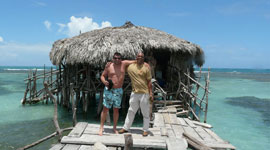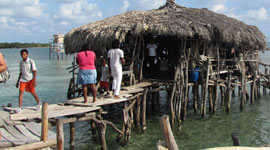 Floyd's Pelican bar South CoastJamaica
A hut erected on a shoal three quarters of a mile at sea, the Pelican Bar is the vision become local institution of Delroy Forbes (a.k.a. Floyd), a fisherman from the remote seaside village of Parottee. With a 20 minute boat ride to the Pelican Bar. This one of a kind restaurant has the freshest seafood available which is caught and made to order as you wait. Try the lobster served in ginger sauce over rice or the fried fish with a traditional Jamaican beverage like Red Stripe alongside it.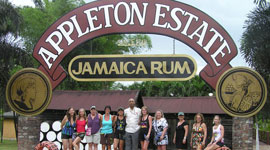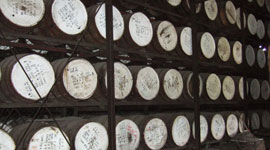 Appleton Estate Rum Tour Jamaica
Take a tour through the soul of the finest rums in the world. The Appleton Estate has been blending rums since 1749 and the Rum Distillery is sited beside the Black River in one of the most beautiful valleys in Jamaica, south of Montego Bay.Upon reaching the estate, the tour guides will illustrate the history of rum making in the region. After a lively discussion of the days when sugar cane was crushed by donkey power, the tours move on to a behind the scenes tour of the modern facility. After the tour, you will sample all the rum and wine they made.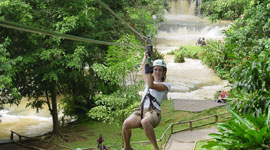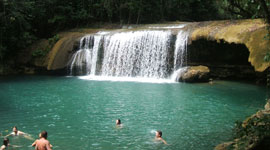 Y.S Falls & Zipline Excursions Jamaica

We can combine a day tour to YS Falls where you get to experience to do the Zipline Adventure and Tubing.
Price List Below In Includes Transportion Only
| Departure Hotel / Resort | 1-4 Persons Day Tour | 5 or More Per-Person Day Tour |
| --- | --- | --- |
| Negril | US$190.00 | US$40.00 |
| Ocho Rios | US$290.00 | US$60.00 |
| Montego Bay | US$230.00 | US$45.00 |
| Runaway Bay | US$260.00 | US$55.00 |
| Grand Palladium Lucea | US$200.00 | US$45.00 |
| Falmouth/Trelawny | US$250.00 | US$50.00 |

Other Things to do In South Coast Jamaica
There are other places and attractions in South Coast area that you can choose from whats listed above such as: A tour in the Tubing, Zipline and more..
River Tubing

Treasure Beach South Coast

Little Ochie Alligator Pond Jamaica

Lovers Leap South Coast Jamaica