Mayfield Falls River Walk / Roaring River Caves
Mayfield Falls Located in the Dolphin Head Mountains in Glenbrook "jacuzzi" type massages, and more. It is very much a wet and active tour.This amazing group of mini-waterfalls is called the Washing Machine. One has to walk along the edge of the river, hugging the face of the rocks, ducking under and behind one of the waterfalls, before emerging in the middle water. The Roaring River runs underground, before appearing near to Petersfield, close to the Roaring River Cave, a series of limestone caverns with a small mineral spring inside. The Roaring River Citizens Association, a local community group, looks after the caves and provides guided tours for visitors. There is also a fresh water sinkhole where visitors can swim and a landscaped private garden where visitors are welcome for a contribution.
Cruise Ship Passengers Book Here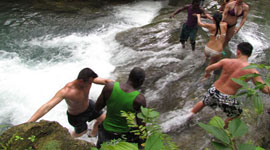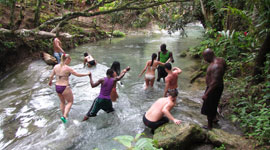 Experience Mayfield Falls River Walk Tour
Mayfield Falls is truly a nature lover's paradise - two beautiful waterfalls, 21 natural pools, 52 varieties of ferns, an abundance of exotic tropical flowers and plant species, and several types of birds, butterflies, and indigenous wildlife.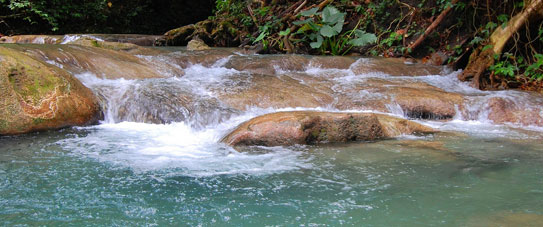 Enjoying Mayfield Falls /Roaring River & Caves
There are two sources of the Roaring River: Once source of water gushes from and old aqueduct while the other is a Blue Hole where the upwelling of water flows down to meet the other source in a confluence at a 300-year-old Cottonwood tree. Part of the subterranean flow of this river passes through Karst limestone caverns snaking through a rock formation across the river from that tree. A footpath ascends up this rock outcropping to a locked iron gate at the top of the path.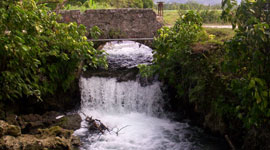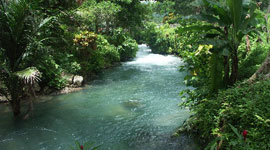 Inside the Caves of Roaring river
Inside, a path with handrails leads down to chambers full of stalagmites and stalactites.The cathedral-like caverns are quite large with a small amount of electrical light place conveniently out of sight providing a wonderful ambiance.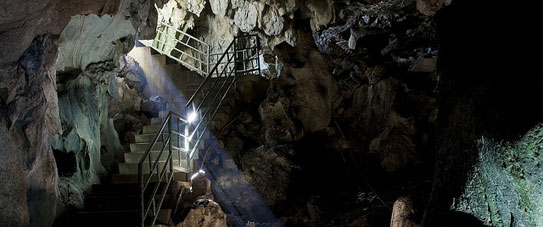 Price List Below In Includes Transportion Only
| Departure Hotel / Resort | 1-4 Persons Day Tour | 5 or More Per-Person Day Tour |
| --- | --- | --- |
| Negril | US$180.00 | US$35.00 |
| Ocho Rios | US$290.00 | US$50.00 |
| Montego Bay | US$190.00 | US$35.00 |
| Runaway Bay | US$250.00 | US$45.00 |
| Grand Palladium Lucea | US$180.00 | US$35.00 |
| Falmouth/Trelawny | US$230.00 | US$40.00 |

Other Things to do In that area Jamaica