Kingston Highlight Tours/ Excursions
Kingston is the capital and largest city of Jamaica, located on the southeastern coast of the island. It faces a natural harbour protected by the Palisadoes, a long sand spit which connects the town of Port Royal and the Norman Manley International Airport to the rest of the island. We will take you on a Tour through some of the most famous attraction spots in Kingston, like the Great Port Royal, Devon House, Bob Marley museum, Emancipation Park and a Highligh Of New Kingston Area of Jamaica.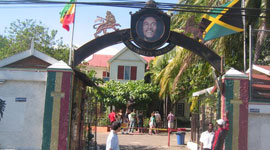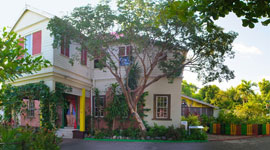 Bob Marley Museum Kingston Jamaica
The Bob Marley Museum is a museum in Kingston, Jamaica, dedicated to the reggae musician Bob Marley. The museum is located at 56 Hope Road, Kingston 6, and is Bob Marley's former place of residence. It was home to the Tuff Gong record label which was founded by The Wailers in 1970. In 1976, it was the site of a failed assassination attempt on Bob Marley.
The Bob Marley Museum is dedicated to the memory of the late reggae superstar, Robert "Bob" Marley. The Bob Marley Museum is located in Marley's original studio where he recorded many of his songs.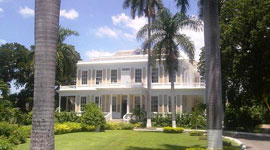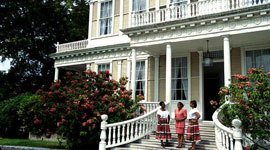 Devon House Tour Kingston Jamaica
Devon House is a national monument and heritage site that actively promotes the development of authentic Jamaican arts, Jamaican craft, Jamaican education and Jamaican entertainment in a comfortable and safe environment. Devon House is maintained as a clean and attractive green space in the urban landscape providing a secure recreational, shopping and dining area for its Kingston Jamaica patrons.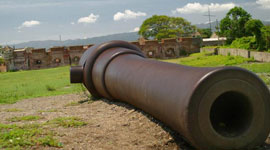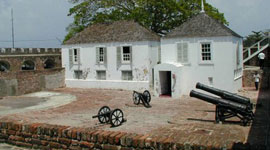 Port Royal Tours Kingston Jamaica
Port Royal is undoubtedly the most renowned Jamaican historical site. The primary historical site is Fort Charles. This is the oldest and largest of the Kingston Jamaica city's six fortresses. Fort Charles in Port Royal was built in the 17th century by Lord Horatio Nelson, Admiral Rodney and Sir. Once known as the 'Wickedest City on Earth,' Port Royal on the island of Jamaica was one of the largest towns in the English colonies during the late 17th century.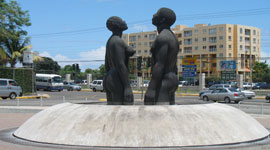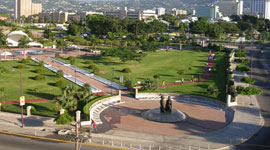 Emancipation Park Tour Kingston Jamaica
After the devastating earthquake of 1692 in Port Royal, several English settlers recognized the enormous value of the Liguanea Plain in St. Andrew. Following the earthquake, a wealthy sugar plantation owner named Colonel Beeston sold 2,000 acres of the lands on the plain to the British colonial government for the re-development of Kingston.

Price List Below Includes Transportion Only
| Departure Hotel / Resort | 1-4 Persons Day Tour | 5 or More Per-Person Day Tour |
| --- | --- | --- |
| Negril | US$470.00 | US$95.00 |
| Ocho Rios | US$250.00 | US$55.00 |
| Montego Bay | US$400.00 | US$90.00 |
| Runaway Bay | US$290.00 | US$55.00 |
| Grand Palladium Lucea | US$450.00 | US$90.00 |
| Falmouth/Trelawny | US$380.00 | US$80.00 |

Other Things to do In Kingston Jamaica
There are other places and attractions close to Kingston Like:
Blue Mountain Tour