Mayfield Falls River Walk Tour
Mayfield Falls Located in the Dolphin Head Mountains in Glenbrook "jacuzzi" type massages, and more. It is very much a wet and active tour.This amazing group of mini-waterfalls is called the Washing Machine. One has to walk along the edge of the river, hugging the face of the rocks, ducking under and behind one of the waterfalls, before emerging in the middle water.
Cruise Ship Passengers Book Here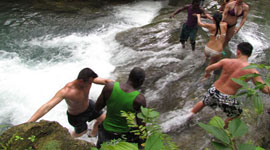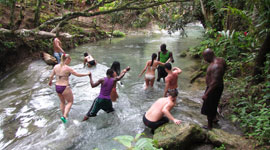 Experience Mayfield Falls River Walk Tour
Mayfield Falls is truly a nature lover's paradise - two beautiful waterfalls, 21 natural pools, 52 varieties of ferns, an abundance of exotic tropical flowers and plant species, and several types of birds, butterflies, and indigenous wildlife.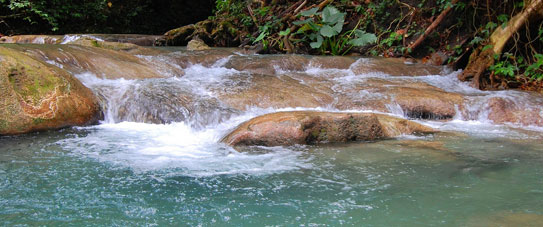 Enjoying the Bule Hole Mineral Spring Negril
The Blue Hole Mineral Spring is a tourist attraction located only 25 minutes from Negril on the Caribbean island of Jamaica.Blue Hole Mineral Spring sits beneath a cavernous opening in Jamaica's terrain and is completely encased by Karst limestone. The naturally occurring minerals in the limestone act as an underground filter for the steady upwelling of water, leaving behind a luxuriously pure bath of minerals for visitors to enjoy..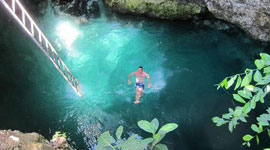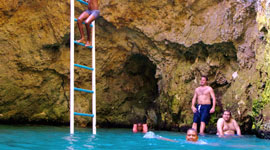 What To Bring On your tour
Wear a swimsuit and bring water shoes, as the stones are tough on bare, water-softened feet.
Mosquitoes can also be a problem, so bring repellent.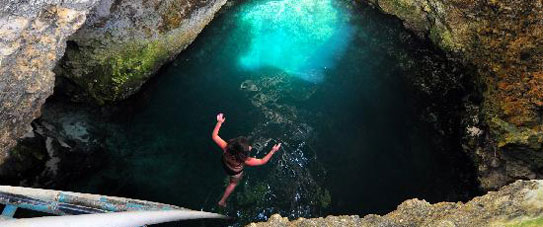 Price List Below In Includes Transportion Only
| Departure Hotel / Resort | 1-4 Persons Day Tour | 5 or More Per-Person Day Tour |
| --- | --- | --- |
| Negril | US$170.00 | US$45.00 |
| Ocho Rios | US$300.00 | US$60.00 |
| Montego Bay | US$190.00 | US$50.00 |
| Runaway Bay | US$240.00 | US$55.00 |
| Grand Palladium Lucea | US$180.00 | US$40.00 |
| Falmouth/Trelawny | US$200.00 | US$55.00 |

Other Things to do In that area Jamaica