Discovery Bay Highlight Tours/ Excursions
Experience Jamaica's newest and most exciting shore excursions at River Rapids Adventures in Rio Bueno,
Trelawny. They offer 4 great activities such as River Rafting, River Tubing, River Boarding and River Kayaking.
Also a visit to the Green Grotto Caves and Columbus Park Discovery Bay Jamaica
Cruise Ship Passengers Book Here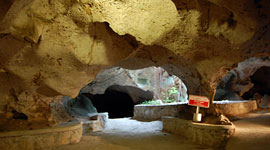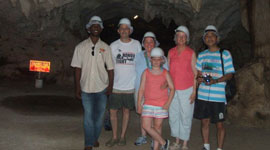 Green Grotto Caves Discovery Bay Jamaica
Green Grotto is 1,525 metres long and 12 metres deep and is characterised by numerous chambers and light holes and a subterranean lake - the Grotto Lake - occupies its bowels. The cave is rich in history and can be identified with different groups of people. The first Jamaicans, the Arawak Indians (Tainos) found shelter in the caves initially. Proof of this is evident in the multiple fragments of pottery and adzes that are unearthed from time to time.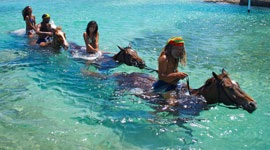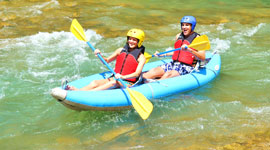 Horse Back Riding / River Kayaking Jamaica
A truly fun and enjoyable experience for the whole family! Here at Braco Stables, we offer horseback riding – a tour through the scenic countryside, onto the shore and swimming bareback with the horses on a beautiful, private beach. Your tour begins as you venture on a short walking path that runs along the river bank, leading you to an open area
where you will find your kayak waiting. After some safety lessons from your tour guide and a quick gear check, you
launch your kayak into the river and immediately feel the intensity of the rushing water.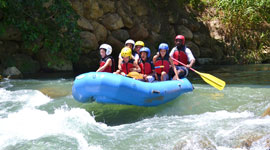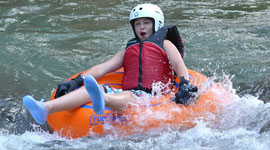 River Rafting / Tubing Discovery Bay Jamaica
Experience the many moods of the Rio Bueno river and enjoy a wonderful family adventure aboard one of our inflatable rafts. Your tour starts with a short walk along our jungle trail and towards the river launch point. After a quick safety gear check, your captain gathers the crew and launches your raft into the river, where it's time to paddle over the many sections of rapids and picturesque river pools. Our tubing tour offers a great mixture of relaxation and white water fun. Kick back and chill out in your tube as you admire the wonderful scenery of the river valley then hold on while you float over the exciting rapids!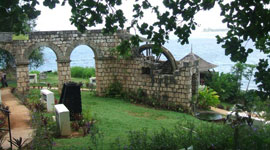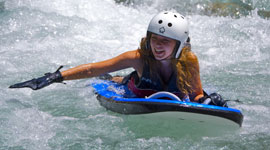 Columbus Park / River Boarding Jamaica
Quick stop at Columbus park which dedicated to Christopher Columbus's feats as an explorer. Spanish Colonial houses flank the park as great examples of a bygone era, and the park itself is like an open-air museum with maritime artifacts from Colonial times. According to legend, this is there very spot where Columbus first touched the shores of Jamaica.For the most extreme thrill seekers, we offer the new activity of river boarding. Gear up, grab a board, and follow our guides into the splashing water for an unforgettable journey downstream that will take you through many sections of captivating rapids and clear water pools.
Price List Below Includes Transportion Only
| Departure Hotel / Resort | 1-4 Persons Day Tour | 5 or More Per-Person Day Tour |
| --- | --- | --- |
| Negril | US$180.00 | US$40.00 |
| Ocho Rios | US$130.00 | US$30.00 |
| Montego Bay | US$160.00 | US$35.00 |
| Runaway Bay | US$60.00 | US$15.00 |
| Grand Palladium Lucea | US$170.00 | US$40.00 |
| Falmouth/Trelawny | US$70.00 | US$20.00 |

Other Things to do In discovery Bay Jamaica
There are other places and attractions close to Discovery BayLike:
Dunn's River Falls
Mystic Mountain Rainforest Ocho Rios