Port Antonio Highlight Tours/ Excursions
Port Antonio, located on the Northeast coast of Jamaica, is one of the most beautiful destinations in this island. Although Port Antonio does not draw as many tourists as other more popular destinations in Jamaica. Port Antonio is an offbeat spot. Rich and shoestring American travelers alike prefer Port Antonio, but many Europeans come here. Experience the natural pristine beauty of Jamaica's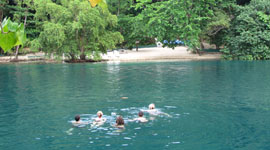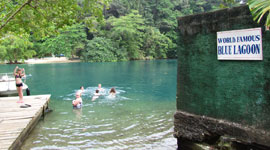 The Blue Lagoon Port Antonio Jamaica
Blue Lagoon is seven miles east of Port Antonio, surrounded by steep hillsides and dense green vegetation. Some claim it to be "bottomless", but experts proclaim it to be about 200 feet at its deepest point. the lagoon is made up of sea water entering from the surface; the surface of the lagoon meets the surface of the Caribbean Sea.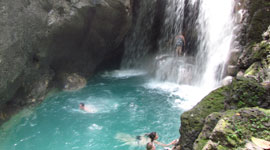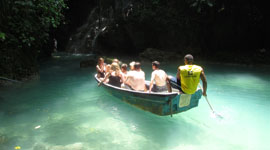 The Somerset Falls Port Antonio Jamaica
Somerset Falls is a picturesque waterfall which is smaller and more tranquil than Dunn's River Falls. The falls run through a former indigo and spice plantation and are set amongst a scenic backdrop of woodland and rocks. To see the falls you need to take a boat trip up the Daniels River (the price of this trip is included in the entry price).step into the awaiting boat to start your journey into another world which we call 'the hidden falls.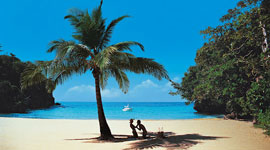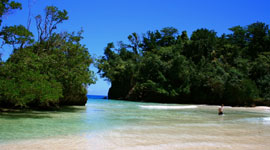 The Frenchman Cove & Beach Port Antonio
This little cove of soft, silver sand is sheltered by jungle-covered cliffs, and cleave, green stream meanders around the edge into the sea. The beach shelves quite steeply underwater, so the undertow can be strong; but in places the stream is deep enough to bathe in, as it runs over the sand.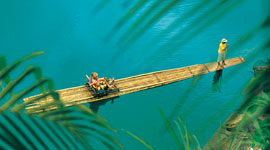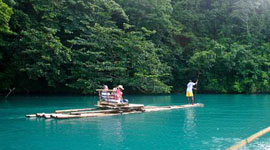 The Rio Grande Rafting Port Antonio
A relaxing trip aboard a bamboo raft poled along by a local boatmen is a familiar symbol of Jamaica and represents the island's first tourist activity other than its beaches. Bamboo rafting in Jamaica originated on the Rio Grande, a river in Port Antonio area. Although it's not exactly adventurous, it's a tame and safe outing, rafting the Rio Grande is the best rafting experience on the island, and the most fun.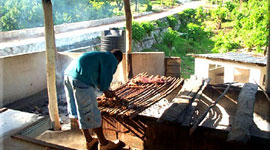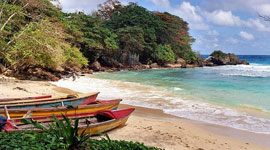 Boston Bay Jerk Center & Beach

Boston Beach is known for its "jerk" pork and chicken stands and could be considered the birthplace of the spicy jerk seasoning for which Jamaica is known. Boston Bay is possibly the best place to sample all things Jerk in Jamaica and is also home to the island's scrumptious "Jerk-Fest", held on the 1st Sunday of July every year. Boston Bay is a perfect place for a
picnic on the beach, Boston Bay is home to a number of vendors, who line the shores offering the finest in jerk meals.
Price List Below In Includes Transportion Only
| Departure Hotel / Resort | 1-4 Persons Day Tour | 5 or More Per-Person Day Tour |
| --- | --- | --- |
| Negril | US$400.00 | US$90.00 |
| Ocho Rios | US$280.00 | US$60.00 |
| Montego Bay | US$350.00 | US$75.00 |
| Runaway Bay | US$300.00 | US$70.00 |
| Grand Palladium Lucea | US$390.00 | US$80.00 |
| Falmouth/Trelawny | US$340.00 | US$70.00 |

Other Things to do In Port Antonio Jamaica
There are other places and attractions in Port Antonio that you can choose from than whats listed above such as: A tour in the Port Antonio Town and more..
Reach Falls

Horse Back Riding