Kingston Ground Transportation Service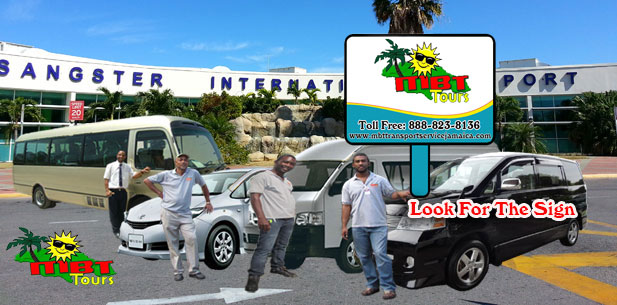 With our safe, professional drivers you don't need to worry when you arrive in the MBJ or Kingston Airport, Because they will be waiting out side the terminal exit with our company sign in their hands and begin your journey with our new comfortable vehicles.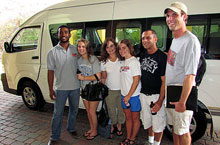 The name speaks for itself. Time is of essence when you land in one of the most beautiful island in the Carib sea. This transfer caters to singles, couples and or the family. There's no waiting after exiting the terminal. Our friendly professional driver will be waiting just for you. There's no stopping along the way unless our guests request such in order to take a few photos of unforgettable Jamaica.

Kingston Private Ground Transportation Chart
| Destination | 1-4 Persons One Way | 1-4 Persons Roundtrip | 5 Or More Per-person One Way | 5 Or More Per-Person Roundtrip |
| --- | --- | --- | --- | --- |
| Negril | US$350.00 | US$700.00 | US$70.00 | US$140.00 |
| Ocho Rios | US$200.00 | US$400.00 | US$50.00 | US$100.00 |
| Montego Bay | US$300.00 | US$600.00 | US$60.00 | US$120.00 |
| Runaway Bay | US$250.00 | US$500.00 | US$50.00 | US$100.00 |
| Trelawny | US$290.00 | US$580.00 | US$60.00 | US$120.00 |
| Grand Palladium | US$340.00 | US$680.00 | US$65.00 | US$130.00 |
| Gran Bahia | US$250.00 | US$500.00 | US$50.00 | US$100.00 |
| Port Antonio | US$280.00 | US$560.00 | US$60.00 | US$120.00 |
| Treasure Beach | US$280.00 | US$560.00 | US$60.00 | US$120.00 |

Payment Instructions and Refund Policy
When you are finish submitting the form, please return to the same page above & Below for online payment for your transfer. Our company policy requires a 30% or 50% deposit on all airport transfers one to two days before arrival. If you choose not to use our service upon arrival and after requesting a refund, there will be no refund. if you cancel up to 24 to 48 hrs prior to arrival,there will be a 20% refund fee. You can pay using paypal or Google payment on our website. PLEASE NOTE: You do not need to have a PayPal or Google account to make a deposit/payment. Deposits/payments can be made by credit/debit cards with. Follow the direction carefully; beside the Add to Cart buttom you click the dropdown bar and select.... Mbj Airport Montego bay and go to the dropdown icon for private car/bus, then click the add to cart button, when the shooping cart open, you go to the right top and put in the amount and update the cart, then choose the provider, paypal or google check out at the Bottom of the cart. Once you make the payment, we will send you your receipt. If you have any problem let us know. Please call!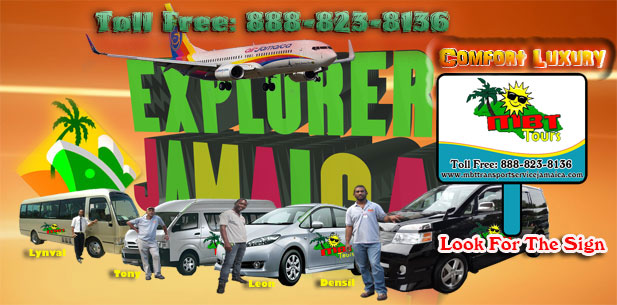 Choose below the type of Transfer Form
Hotels / Resorts
Montego Bay(MBJ) Airport to Negril Hotels/ Resorts?.. Riu, Sandal, Beaches, Grand Lido, Grand Pineapple, Rooms, Hedonism,Hidden Paradise, Home Sweet Home,Bar-B-Barn, Beach Comber, House Villas,Beaches Negril, Sandy Bay, Blue Cave Castle, Caribbean Sunset Resort The Caves, Charela Inn, Coco-La Palm, Coral Seas, Country Country, Couples Negril, Swept Away, Crystal Waters, Daniel Beach Village, Devine Destiny, Drummville Cove, Escape, Falcon Cottages, Foote Prints, Golden Sunset Villas, Grand Pineapple Beach Resort (Formerly Negril Gardens) Idle A While, Kuyaba Negril, La Mar Resort, Legends Hotel,Breezes Grand Resort & Spa Negril, Jamaica, Mariner's Inn, Merrils Beach, Negril Beach Club, Inn and Palm Beach, Our Past Time Villas, Palm Beach Hotel, Paradise View Hotel, Point Village Resort, Rayon Hotel, RIU Negril and Tropical Bay, Rocalta Resort, Rock House, Rondel Village, Samsara Hotel, Seasplash, Seastar Inn, Sunset at the Palms, Tensing Pen, Thrills Resort, Travellers Beach, Villa La Cage, White Sands Negril, Whistling Bird, Xtabi Negril ..One Hour and 15 minutes. How far is / How long of a drive/ What the distance.. Grand Palladium / Lucea Hotels Riu Montego Bay Riu Tropical Bay Palace Riu Club Secrets Resort Secrets Wild Orchid Hilton Rose Hall El Greco Resort Montego Bay Sandals Sandals White house Doctor's Cave Beach Hotel Holiday Inn Ritz Carlton Coyaba Beach Hilton Resort & Country Club Iberostar Gran Grand Bahia Principe FDR Resort FDR Pebbles Starfish Resort Club Ambiance Breeze Runaway Bay Hedonism Hedonism Negril Royal Decameron Royal Decameron Runaway Bay Beaches Boscobel Resort Sunset Beach Resort Sunset Jamaica Grande Point Village Negril Negril Tree House Couples Swept Away Sand Castle Hotel Sky Castle Fisherman's Point Jamaica Inn Crane Ridge Hotel Turtle Beach Towers Royal Plantation Silver Seas Hotel Rondel Village Rooms on the Beach Hotel Sea Splash Sunset at the Palms Caribbean Sunset Resort Coco la Palm Country Country Travelers Beach Legends Hotel Beach Comber Hibiscus Lodge Fire Fly Negril Escape Blue Caves Castle Palms Negril