Montego Bay Combine Tours
Visit the historic Rose Hall Great House and learn about Annie Palmer, the White Witch of Rose Hall, and hear her story, you can experience the Half Moon shopping centre, discover the Shops along the Montego Bay Hip Strip, Doctor's Cave Beach and visit the Martha Brae River Rafting. Enjoy the world-famous Margaritaville Restaurant/ Bar. After dark, feast on jerk chicken, dance to a reggae beat.
Cruise Ship Passengers Book Here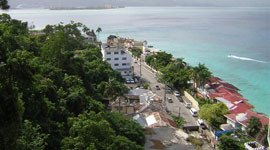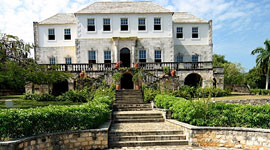 Rose Hall Great Great House / Hip Strips
In the 1700s, a woman's route to wealth and power was usually via marriage, and Annie Palmer was no exception. Born in France, Annie was a petite woman (barely 4 feet tall, it is said) who moved to the beautiful island of Jamaica to be the wife of a powerful man who owned Rose Hall and thousands of acres of sugar plantation. Little is known of her early days at Rose Hall.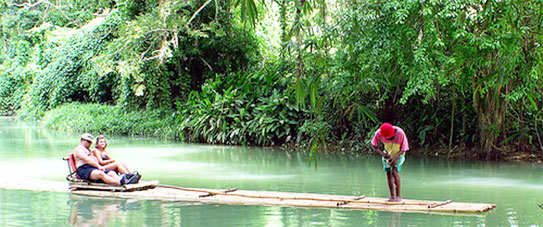 Martha Brae River Rafting Falmouth
The raft ride is operated over a three mile stretch of the beautiful Martha Brae river and lasts approximately one hour. Once on the raft, guests can learn about "The Legend of Martha Brae" or enjoy an exhilarating swim. Established forty years ago, Rafting on the Martha Brae boasts a complement of eighty five licensed and experienced raft captains. Thirty-foot long bamboo rafts are boarded from a concrete pier, under the supervision of a licensed dispatcher.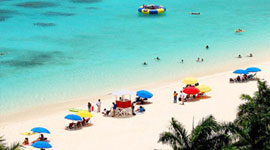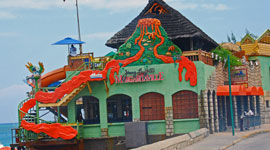 Doctor's Beach & Margaritaville restaurant
You can take photos of the stonning view of the entire City of Montego Bay. The Doctor's Caves beach has a broad swath of very clean, near-white sand some 200 m long. It is fringed by trees, and has numerous facilities: bar, restaurant, well-appointed changing rooms and showers.
Montego Bay Day Tours / Luminous Lagoon
A visit to Jamaica's Montego Bay area would not be complete without enjoying a trip to the Martha Brae River and its spectacular Luminous Lagoon. The lagoon is the home of a rare phosphorescent microbe – a dinoflagellate - that lives where the warm fresh waters of the Martha Brae River meet the salt waters of the Caribbean. The constant movement and flowing
of the river causes the microbes to move and glow with a neon-green color. The phosphorescence is so marked that the fish swimming in the lagoon have been likened to moving stars. The activity stirred up by tourist boats and swimmers only enhances the effect. This unique microbial phenomenon can be found in just four places in the world, and Jamaica's Luminous Lagoon is considered the best place on the planet to experience it. (Best seen at night)

Price List Below In Includes Transportion Only
| Departure Hotel / Resort | 1-4 Persons Day Tour | 5 or More Per-Person Day Tour |
| --- | --- | --- |
| Negril | US$180.00 | US$35.00 |
| Ocho Rios | US$200.00 | US$45.00 |
| Montego Bay | US$130.00 | US$25.00 |
| Runaway Bay | US$180.00 | US$40.00 |
| Grand Palladium Lucea | US$150.00 | US$35.00 |
| Falmouth/Trelawny | US$150.00 | US$30.00 |

Other Things to do In Montego Bay Jamaica
There are other places and attractions in Ocho Rios that you can choose from than whats listed above such as: Shaw Park Botanical Gardens, Horse Back Riding, Prospect Plantation Tour, Green Grotto Caves Runaway Bay, Braco Adventure-Tubing-Rafting, Shopping in Ocho Rios and more.
Zipline Adventure Tour

Horse Back Riding

Great River Tubing

River Rafting

River Kayaking and more