Ocho Rios Highlight Tours Booking Form Below
Visit some of Ocho Rios most famous spots such as Dunn's River Falls, get the opportunity to interact and "Swim With" dolphins in their natural sea environment at Dolphin Cove. Experience the breathtaking three mile journey River tubing down the White River. Also, Experience Bob Marley Mausoleum Nine Miles & Mystic Mountain: Bobsledding at Rainforest Adventures Jamaica features a 1000m long gravity-drive through the rainforest on custom designed, high-tech sleds. Accessible via the Sky Lift Explorer, the Bobsled is a thrilling ride through dense tropical landscapes and coastal features on sleds that evoke Jamaica's Olympic team. Rainforest Sky Lift Explorer, a state-of-the-art chairlift sends you soaring above the treetops up 700 feet to the top of Mystic Mountain. Experience the natural pristine beauty of Jamaica's Shaw Park Botanical Gardens and Waterfalls. Situated high on a hilltop overlooking the azure waters of the Caribbean Sea, the Gardens embrace 25 acres of tropical splendour. Spend sometime shopping at the Ocho Rios Plaza, Taj Mahal Mall, Island Plaza, Security Plaza and the Ocho Rios Craft market for those special items to take home. Any Two or Three of these tours can be combine for the day.

Cruise Ship Passengers Book Here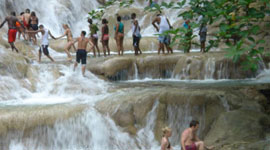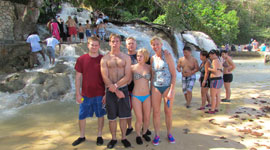 Dunn's River Falls Excursions Ocho Rios

Dunn's River Falls is a famous waterfall near Ocho Rios, Jamaica and a major Caribbean tourist attraction. The falls empty into the Caribbean Sea. It is one of the very few rivers in the world that actually fall directly into the sea. The waterfalls are staggered and span some 180 metres (600 feet). Several small lagoons exist there, interspersed between the vertical sections of the falls.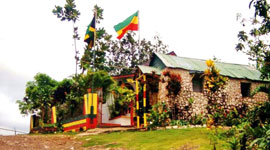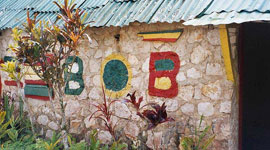 Bob Marley Mausoleum Tour Ocho Rios

Bob Marley Mausoleum and Bob Marley centre are great attractions available to tourists visiting Ocho Rios in Jamaica. The mausoleum is located in small hamlet called Nine Mile that houses both birth place and burial place of Bob Marley, his childhood home and a cottage with two rooms that contains Bob Marley family keepsakes. A vegetarian restaurant and a Bob Marley memorabilia gift shop are adjacent. .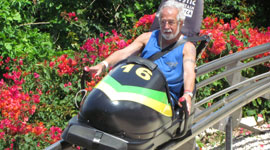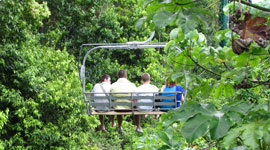 Mystic Mountain Rainforest Excursions
Mystic Mountain, the hottest new destination in Ocho Rios, Jamaica, the attraction capital of the Caribbean! Rainforest Bobsled Jamaica at Mystic Mountain boasts over 100 acres of land stretching from the coast road entrance near Dunn's River Falls to over 700 feet above sea level at the peak of Mystic Mountain. Mystic Mountain is situated on over 100 acres of land containing a diverse ecosystem including natural springs, tropical plants, trees and a variety of birds.